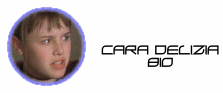 CARA DELIZIA
BIOGRAPHY
"Fi Phillips"
Cara DeLizia stars as Fiona "Fi" Phillips, a 14-year-old girl who is fascinated
by mysteries of the paranormal in Disney Channel's new original series So Weird.
DeLizia was born April 10, 1984 in Silver Springs, Maryland. She began
acting at age five, following in the footsteps of her big sister, Melissa.
Since then, DeLizia has appeared in over a dozen national commercials,
including spots for Robitussin, Pepsi and Kellogg's Apple Jacks. ON stage, her
credits include Gretl in The Sound of Music and young Erin in Dream Child, at the
John F. Kennedy Center for the Performing Arts. DeLizia has also worked in video,
film and television. Some of her films include Under the Gun, Gulliver's Travels,
Only in America and The Trojan Horse. In video, she co-starred with Mary Kate
and Ashley Olsen in their video A Sleepover with Mary Kate and Ashley, and was
a series regular on the video series The Secret of Google. In television, DeLizia
was a series regular on Warner Brothers' Nick Freno: Licensed Teacher, as Sarah.
The busy teenager enjoys rollerblading, skateboarding, and basketball, as

well as cartooning and studying science.

She also loves babysitting – people and
animals. She and her entire family, including her furry "brother"
Jake (a miniature Schnauzer), recently moved to California from the East Coast.